TXL Wire 10 AWG - Black - By the foot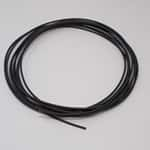 Black
Part #:
WRTL10-BK
Availability:
In Stock
Sale Price per foot:
$0.53
TXL 10 AWG wire is useful in wiring harnesses for connecting large components with heavy amp draws or large in-rush current such as ECU/ECM, fuel pumps over 150 GPH, COP/CNP power, large cooling and accessory fans. See the table below for amperage based on wire gauge and length. See the table below for gauge based on wire length and amps.
Main battery leads and feeds to positive and negative distribution blocks should be wired with 2 AWG or larger battery cable.
TXL Automotive primary wire is a stranded special purpose automotive copper wire that is insulated with chemically crosslinked polyethylene, manufactured to the SAE J1128 standard. The thin wall insulation has a smooth surface which resists moisture, oil, grease, and most fuels, acids, and solvents. Additionally, the reduced diameter insulation has excellent temperature tolerance making it an ideal choice for use in wiring harnesses in both the passenger and engine compartments. Temperature Rating: -40°C to 125°C (-40°F to 257°F. SPRS stocks 10, 14, 18, and 22 gauge in multiple colors for most automotive needs with larger and smaller sizes available for special order.
Wire gauge recommendation based on length and amperage of circuit.
Length →

3'

5'

7'

10'

15'

20'

25'

Amps↓

Gauge size - TXL multi-strand conductor automotive wiring.

3

5

7

9

10

12

15

18

20

22

Wire sizes assume conductors held firmly inside wire loom, and may be secured with other electrical conductors.
5% maximum voltage drop from 13.5VDC with temperatures to 140F or 60C degrees. Critical circuits should use one size larger wire.
Customer Reviews